Arlen



Birth name

Arlen Šošojivna Zakharov

Goes by

Arlen

Birthday

June 21, 1539

Sex

Ambiguous XY (Reifenstein)

Gender, Pronoun

Girl, She

Height

4'10"

Eyes

Blue

Hair

Ashen brown

Origin

Ukraine, near Kiev

Languages

Ukrainian, Servi Romani, some Welsh Romani, some Lovari Romani

Arlen Šošojivna Zakharov (Ukrainian: Арлен Шошойівна Закгаров) is sister to Luludji Zakharova. She is the child of Anastasia Zakharova and Šošoj Zakharov.
Basics
Personality
sdf
Appearance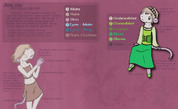 Arlen is approximately 4'10" tall. She is of a lean, boyish build and has a heart-shaped face. Her skin is a purpley-pink and she has pale tan hair covering much of her body. Her hair is an ashen brown and is cut in an androgynous style. It is parted on the left. Before she left for the circus and for approximately half a year afterward, Arlen's hair fell to just beneath her shoulder blades. Her ears angle downward. Her neck is thick and masculine. Arlen is extremely flat-chested due to her chromosomes (XY), and her hips did not fare much better. Arlen's eyes are bright blue with a darker ring around the pupil. She is rather muscular due to her dance training.
Due to internal conflict over her body, Arlen is rather modest in her style of dress. She prefers to wear pants, breeches, or hose instead of skirts, and indeed wears breeches under most of her skirts. Arlen wears mostly neutral colors and green. She nearly always wears either a headband or a headscarf. The headband provided for her by Crowne Forest is crocheted in a dark thread. When at home in Ukraine, she wears a headscarf (usually white with red embroidery), a loose chemise with embroidery on the sleeves, an apron tied over the left hip, and a long skirt.
Past
dfsdf
Crowne Forest Circus
sdfsdf
Relationships
Family
Anastasia, Sosoj, Lulu, kinda Marcus and Elisavet. . . .
Friends
Ana, Aria, Marcus, Elisavet? blehhhh
Romance
Isaac WHUT
Tropes
Gender Blender Name mixed with Tomboyish Name. Arlen is a traditionally male name.
Art
By Kei
sdf
By Others
sdfsdf
Recommended Listening
The Show by Lenka
The Golden Floor by Snow Patrol
Wig In A Box from the Broadway musical Hedwig and the Angry Inch
The Return of the King from the soundtrack of The Lord of the Rings: The Return of the King
Razzle Dazzle from the Broadway musical Chicago
Who Will Love Me As I Am? from the Broadway musical Side Show